This page discusses specialty offerings that are provided by HostaVPS.
Managed VPS
Virtual Private Server is the most advanced web hosting server with specific facilities and safety measures. A managed VPS server consist of hardware management, server hardening, proactive monitoring, operating system and software support, network management, proactive security patches and updates, firewall protection, spam prevention etc. In other hand the VPS server is the up gradation of common hosting servers with up gradation of some hardware means such as the CPU, RAM, Disk Space or even connections of network. Managed VPS hosting service are much preferable to use because of their diverse purposes and great benefit schemes.

Before buy a VPS at first decide does VPS hosting is right for you? Normal web hosting is to borrow a part of a server with limited facilities and it also has limitations in using server applications like MySQL, Apachee, PHP etc. Therefore a VPS is not like that as a normal web hosting. Virtual private server is fully managed server hosting. Dedicated server is fundamentally just renting the managed server from the hosting company instead of renting the rack space for your own server. Alternatively, managed VPS hosting is a way to save your time, reduce your expenditures, and ensure the well-being of your virtual private server.

Proactive Monitoring
Best-Effort Third Party Installations
Unlimited Admin Work
Fast Response Times!
Installations/Audits/Updates/etc..
Free Migration Assistance
In HostaVPS managed VPS hosting plan, we help you with specific tasks that you may need assistance with. Find out the key areas to choose the VPS hosting plan. We offer operating system installation and reinstallation in VPS hosting, Software updates for improved features and performance, regularly upgraded security, proactive server monitoring, free administration whatever you need for your managed Virtual private server. You can choose to have your VPS located three different locations. Choose our VPS from our Las Angeles, CA or Scranton, PA or Maidenhead, UK datacenter according to your requirement. We have 99.9% uptime guarantee on our network and servers.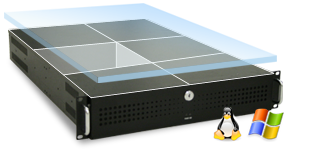 There is no possibility of skimping in our server because our server runs on the fastest 8 core Intel processors with 16GB DDR3 along with RAID-10 storage. Try our Hybrid VPS hosting plan to ensure the dynamic visibility of your large websites and huge traffic controls. If you don't be satisfied with our service within 30 days of purchase our Hybrid VPS we will fully refund you. It is guaranteed. Our managed VPS hosting plan includes initial setup & configuration, Hardening & Securing, Free Transfers, Offsite Nightly Backups, Script Installation and much more.